The Union 4 Life group has struck again, this time raising and contributing $12,000 to breast cancer research at the University of Michigan Comprehensive Cancer Center. Over the past three years, the group – started by IBEW Local 252 apprentices – has raised $31,000 for U-M's research. This year fundraisers included a motorcycle poker run, golf outing, casino bus trip, bowling night and archery shoot.
"Fundraising efforts like Union 4 Life make a tremendous impact at the U-M Comprehensive Cancer Center and within the Breast Oncology Program," said Jason Keech, associate director of events for the University of Michigan Health System Office of Development. "Philanthropy gives us the means to support innovative, high-reward ideas. More often than not, a scientist???s project must already be proven successful to obtain government or industry support. In the meantime, discoveries by many young investigators ??? the out-of-the-box ideas that could change the world ??? are stalled or never get started."
IBEW Local 252 Training Director John Salyer said apprentices at the school have done thousands of hours of community service, ???but wanted to really do something big as a group. They thought just about everyone knows someone who is touched by breast cancer, and the University of Michigan has always been a big supporter of the union trades. So that???s how this came together.???
Salyer said the money was raised this year with the help of a number of other unions, "with a special shout-out to the Carpenters." A big check was handed over to U-M on Nov. 9.
Keech added, "fundraisers like the ones held by Union 4 Life provide support for seed grants to researchers whose work is in its earliest stages of development, jumpstarting their ideas when they have the greatest potential for impact. This research is advancing new therapies and providing new hope for patients and families everywhere, ensuring potential medical breakthroughs are not lost. For that, we are incredibly grateful!"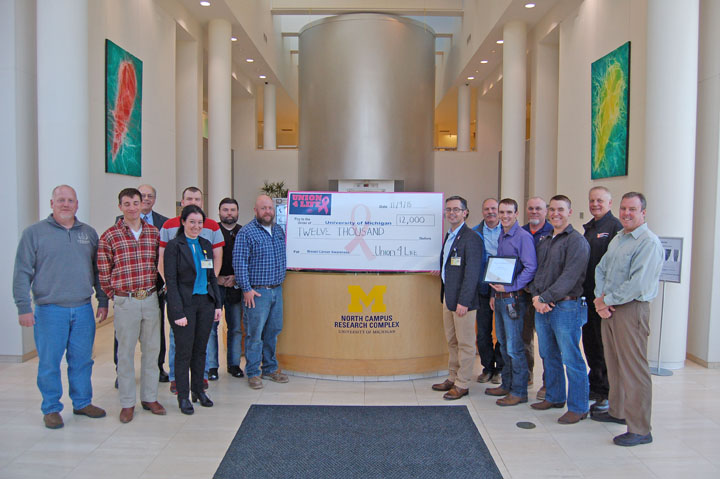 A big $12,000 check from the Union 4 Life group was delivered to the University of Michigan Health System Office of Development on Nov. 9 to support breast cancer research. Among the attendees (l-r) are IBEW Local 252 Training Director John Salyer, Martin Grove, Mike Crawford (NECA), Dr. Costanza Paoletti, Alex Hovatter, Brandon Linnabury, Chairman Harry Hutchison (Huron Valley Electric), Jason Keech (Uo-M), Lew Neeb (252 instructor), Mike Crawford, Mike Cobb, Kevin Lyons, Gary Walls (JATC) and Dr. James Rae.
---
Union 4 Life Makes Another Contribution to Breast Cancer Research at U-M –??Michigan Building and Construction Trades Council