Joe Piliszko and Marc Herceg of Huron Valley Electric received a Heart of Walbridge Award from general contractor Walbridge on October 9, 2019.
Daniel Clark, Jr.
Back in April, Joe and Marc saw an internal e-mail about a terrible accident where an electrician was seriously injured on a construction site on I-75. Daniel Clark, Jr., 42, of Westland, a former Motor City Electric Co.
employee, was struck by a construction vehicle on just his third day on the job with his new employer. Dan suffered major injuries including a broken pelvis, broken ribs, and collapsed lungs. Joe and Marc were later discussing the incident with their on-site safety representative Denis Marshall.
At the same time, Walbridge was preparing for Safety Week and a MIOSHA Safety Stand Down to take place the first week in May. Joe, Marc, and Denis decided it would be a great idea to take up a collection on their job site at U of M Kraus Science Building during Safety Week and donate all money raised to the GoFundMe page started by Dan Clark, Sr. They also came up with the idea to focus on safety around heavy equipment on job sites to further raised awareness about what had happened to Dan. Keep in mind, none of these guys had ever met Dan, but their hearts went out to Dan and his family at this difficult time and they wanted to help in any way possible.
On April 8, Joe asked Matt Pulick, project manager for Walbridge, the general contractor for the Kraus project for permission to take up a collection. Walbridge thought it was a great idea and fully supported the effort. The goal was to raise $1,000, but as men and women from all of the trades reached into their wallets to contribute, the total climbed. They ended up raising $2,715 and Walbridge kicked in $285 to make it an even $3,000!
Dan???s father posted a thank you on the GoFundMe page started for Dan:
I personally want to thank Marc Herceg, who organized a fundraiser for Daniel Jr. last week at the campus of the University of Michigan. All of you that attended that fundraiser have shown sincerely how much a fellow union brother can be supported in a time of need. Together they have raised an amazing gift ??? for Daniel Jr. Thank you all. Sincerely, Daniel Clark, Sr.
Brian Herrmann
Just three months later, tragedy again struck one of our tradespeople. Brian Herrmann, 38, of Brighton, a University of Michigan electrician and former Huron Valley Electric employee, was on vacation with his family on in Ludington, Michigan. While swimming in the Big Sable River near the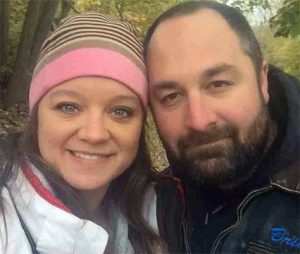 mouth of Lake Michigan on July 25, Brian, his wife, Beth, and their two children, were swept into the lake by a strong waves and currents resulting from the heavy rainfall this year. Crews were able to rescue Beth and the kids, but, unfortunately, Brian was swept further out and drowned.
Most of the construction team at the Kraus job site knew and/or worked with Brian and were understandably shaken by the loss. Once again, Joe and Marc reached out to Walbridge for authorization to take up a collection, which was wholeheartedly supported. Over the following weeks, $2,275 was raised from the various trades to donate to Brian???s family to add to what was raised on the GoFundMe page.
Thank You
It is truly telling and heartwarming that neither Marc nor Joe were looking for any recognition for themselves ??? they simply saw two situations where families were in pain and needed help. We are so proud of them as well as all of their fellow tradespeople who reached into the hearts and wallets to help the families of Dan and Brian during one of the toughest times in their lives. ??Marc and Joe want Walbridge to know that they are deeply honored to have received the Heart of Walbridge Award.
???We will always try to perform at a level that represents IBEW Local 252, Motor City Electric Co., and Huron Valley Electric to the best of our abilities, and encourage others to get involved and help others in need,??? said Joe.