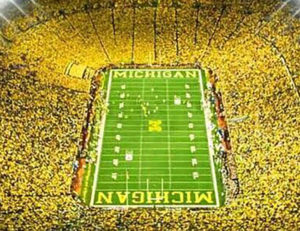 College towns are typically filled with sports, and Ann Arbor is no exception. As a Big Ten school, University of Michigan competes in not only football, basketball, and hockey, but also wrestling, soccer, lacrosse, volleyball, tennis, golf, swimming, diving, water polo, and several other sports.
All of those stadiums arenas, field houses, etc., need electricity for power, lighting, scoreboards, televisions, and more. University of Michigan has consistently selected Huron Valley Electric to construct, install, service, and test the electrical resources for its athletic facilities.
The next time that you visit Michigan Stadium, Crisler Center, Yost Ice Arena, Ray Martin Stadium, Varsity Tennis Center, Canham Natatorium, Bahna Wrestling Center, or any of the numerous sports venues on the U of M campus, you???ll be amidst HVE???s handiwork.
Go Team! HVE???s Winning Experience with Sports Facilities
Our team of professionals has completed a wide variety of projects for University of Michigan athletics, but also for professional sports and other schools: