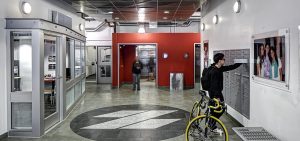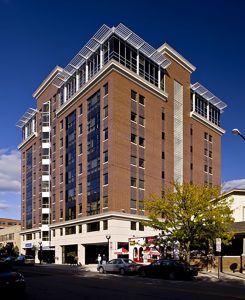 Zaragon Place was one the first in a crop of luxury mid-rise and high-rise living options for students and young professionals in downtown Ann Arbor.
Located steps from the U of M Diag, Zaragon Place is a mixed-use, mid-rise student housing development. Selected as the design/build electrical contractor, Huron Valley Electric designed all of the electrical systems within the building. This included the incoming building power distribution, emergency power distribution, branch power, lighting, and life safety systems.
The building is one of Ann Arbor's most sought-after student housing choices due to its edgy, modern design. The 10-story building covers more than 120,000 square feet and offers 66 apartments that sit above ground-floor retail space. Residents also enjoy a two-story 24/7 state-of-the-art fitness center and two floors of heated below-grade parking. Zaragon Place has 2, 4- and 6-bedroom units. All apartments have at least 9-1/2-foot ceilings and are fully furnished including wireless internet and in-unit washers and dryers.
Huron Valley Electric also handled design/build for the tenant space build-outs. Revive + Replenish is a connected "double business." Revive is a cafe and sandwich shop. Replenish is a small market stocked with fresh produce, meat, basic groceries, energy bars, and assorted snack foods. Replenish also features local favorites like Zingerman's bread and brownies, Mighty Good coffee, and Ann Arbor Tortilla Factory chips. And, Revive's digital menu board? It's actually high-definition TVs programmed with PowerPoint.