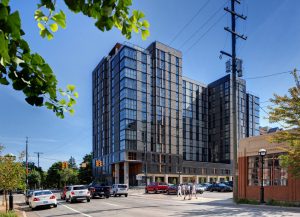 Put aside your existing ideas of student housing because college students have entirely new places to call home. High-rise apartments and lofts are the new preferred student housing and the University of Michigan is right on trend. Ann Arbor's Foundry Lofts on Huron Street is 14 stories tall with 210 units and loads of highly desirable amenities. And, it's just two blocks from campus!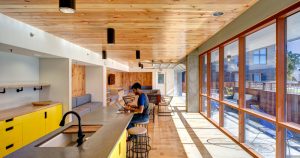 Huron Valley Electric (HVE) was hired as the Design/Build electrical contractor for the $65 million project. Members of IBEW Local 252 were utilized for all of the electrical needs of this luxury high-rise. From lighting, heating, and boiler work to roughing in walls, HVE was a multi-faceted partner on this high-profile project.
Posh Amenities
Inside the fully-furnished apartments you find stainless steel appliances, granite countertops, in-unit washer and dryer, and walk-in closets. Indoor community amenities include a fitness center, game room, computer lab, and internet café. Likewise, outside one finds a gourmet grilling area, outdoor lounge with fire pit, pool, and hot tub. Besides that, electronic key entry, garage parking, bike storage, and 42" smart TVs in the living rooms round out the features.
High Quality Construction Labor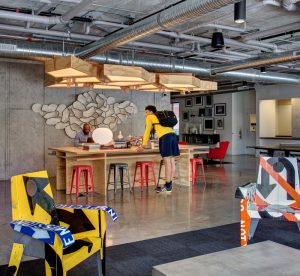 HVE Foreman Paul Petrick commented, "The skill level of the people that I get out here is incredible. Even the first-year apprentices, which back in the day used to be kids with no experience. Now we get first year apprentices that have a good work ethic and our local is good at screening the ones that come into the program. Above all, we get some top-quality guys and the journeyman are second to none."
This is also one of the first projects for which Huron Valley Electric brought in the primary power themselves. "Edison stopped at the property line and we set our own switching gear and our own 4800-volt transformer. We have a bus duct going up both sides of the building, which then feeds the big distribution panel, which feeds every apartment panel. We did the main trunk line, the electrical backbone, all common spaces, the garage, and the entire ground floor."
Journeyman Jacob Church remarked, "I just love doing the big jobs. You see more and get to do a little bit of everything. That's probably my favorite part."